TBS ANALOGUE DRUM SYNTHESIZERS
The creation of punchy percussion sounds is an underdeveloped area for most synthesizer artist. Perhaps the ever-present keyboard attached to the electronics distract us from the possibility of creating drum sounds and other percussive effects. With the DRM percussion-analogline from TBS the result is very satisfactory. Metallic, resonant splashy Kraftwerk sounds, slurpy Hi-Hats, ravey squelchy bass drums, snappy CR78 snare-sneeze and 808 stylished hand-clap noises can be produced with ease. Everyone familiar with electronic percussion-machines such as PEARL SYNCUSSION is recommended to try these percussion synthesizers out. You have total control of the sounds and can "tune" them along your journey. Each Voice is Triggered via individual selectable MIDI note number.
Electronic percussionistīs is also recommended to look through The Concussor range from Analogue Solutions.
---
SYNCUSSION DRM 1 - Analog Drum Synthesizer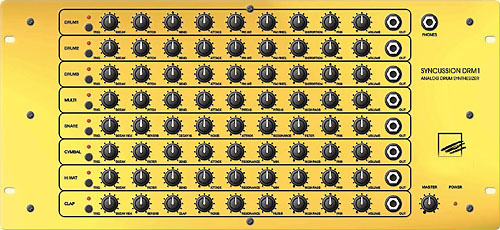 Detailed picture info DRM1
8 sound channels: DRUMVOICE 1/2/3, MULTI, SNARE, CYMBAL, HI HAT (OPEN or CLOSED), CLAP
7 realtime sound controls per channel and knobs PANORAMA + VOLUME,
Trigger: one knob or via individual selectable MIDI key note,
Seperate audio signal output
Outputs: HEADPHONE, MASTER L and R, MIDI IN and THRU
Console: 19" 5U and AC adapter inclusive

---
MINI SYNCUSSION DRM 2 - Analogue Percussion Synthesizer


CLAP CUSSION ACM2 - Analogue Clap Synthesizer





Detailed picture info DRM2
Detailed picture info ACM2
7 realtime sound controls and control VOLUME
Trigger per knob or via MIDI key (individual selectable)
Cabinet 19" 1U and AC adapter inclusive
---
VSR 3 - Vintage Spring Reverb

Old VINTAGE sound with ACCUTRONICs 3-track spring reverb module
effectstop switch and footswitch connection for input and mix cabinet 19" 1U and AC adapter inclusive
---